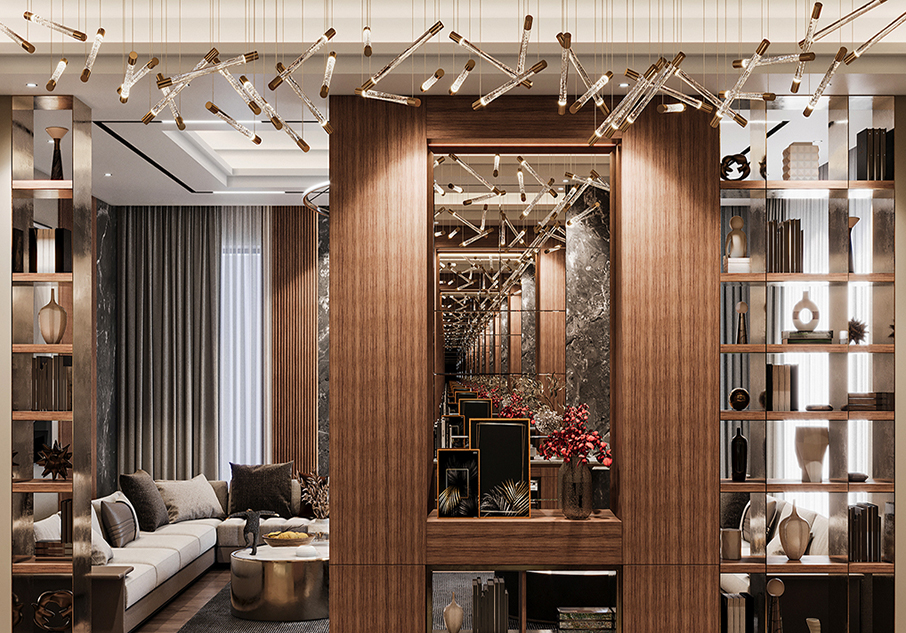 Residential Villa Design & Decoration Project in Damac Hills by KEA Design
Kea design Dubai has the honor to achieve a Residential villa & Decoration Project in Damac Hills, which is an integrated organizational development featuring a unique portfolio of properties ranging from villas and apartments to hotel rooms. The project also includes Trump International Golf Club, Dubai along with four million square feet of lush gardens that allow residents to enjoy themed spaces suitable for relaxation or exercise, including tranquil gardens overlooking clear lakes, a ski park and stables, a football field, a tennis court and many more.

Kea Design became synonymous with high standard, style and elegance. With a large number of completed projects, and after 12 years in professional practice, has established the company as one of the most important interior designers in Dubai and uae. It is a firm dedicated to the design and development of architecture, interior design, furniture selection, decoration, fit outs and construction projects in general, with ramifications on issues of conservation and rehabilitation of the built heritage.

Damac Hills has been operating since its foundation with a portfolio that includes various residential and commercial projects in Dubai and in the tourist areas of the whole country. The community of "Damac Hills" has food carts from the most well-known brands with an ice cream bus that will increase the happiness of the residents of this community, in addition "Carrefour" supermarket, Jebel Ali School, salons and cleaning services, a special "green area" for selling plants, round-trip buses to and from Mall of the Emirates, and more fantastic amenities.

It is very important to determine the wishes and requirements in order to design the structure that coincides with your dreams and is most suitable for you. In every architectural project (residence, business center, villa, museum, hotel, shopping mall, school, office, digital office, store and workplaces); As a result of the examination of the space where the project will be realized, kea design take the first steps of the project by preparing the idea design where our designers put forward their first thoughts, site plan suitable trending colors and furniture selection.

The Preliminary Residential Villa Design Project in Damac Hills, which is a proposal project in which the first thoughts about interior designs creativity, furniture selection, imagination touch of decoration with a space of 580 sq. ft structure to be realized as indicated by plans, sections and appearances to be organized with multiple proposals showing several solutions to bestow the owner a comprehensive analysis of each design and choose the appropriate one.

Kea Design luxury department create mass relationships to reach the final project with function and aesthetic components, we receive support from our multiple expert specialization fields and reflect all consultancy to the project by bringing them together in harmony and balance: It is the irreducible polynomial between architecture, technology, science, imagination, fiction, and brilliant creativity.

Villa Projects: most people want to live in a living space and comfortably according to their dreams and tastes. As experts, kea Design put these people requests first and this is the most important factor that guides us for design and decoration project- Priority for residential Villa design Project; to determine the main needs and wishes of the user such decoration, fit out and furniture selection in the most accurate way and to design accordingly...

Residential Villa Design & Decoration Project in Damac Hills by KEA Design main objective:

- Get a sense of the size of the residential villa space and how best to utilize it.

- Working on our own design and experimental work based on our own ideas of space division, material consumption and utilization.

- high experience in working with different scales, getting to know different materials and selecting the use of each raw materials, such as wood, stone, plastic, etc. for decoration and furniture selection. - Get to know the ideas of color theory and lighting inside the residential villa rooms intended by the user.

- Become independent in working and creative.

Residential Villa design & decoration project Drawings:

Kea Design designers define the villa project according to the fixed need list such as Living Room, Kitchen, Bedroom and bathroom in general. Apart from this, the extra requests of the customer in other rooms are essential. On the other hand, the second and important thing is the materiality, that is, accurate comparison between cost of the residential villa and the budget of the user.

Manufacturing:

The square meter account of the units in the list of needs is; The selection of the furnishing materials (Sofa, Bed, curtains,) used in it and the dimensions of these materials proposed by kea design. For example; There is a difference between using a jacuzzi in a bathroom and using a shower cabin, both in terms of space and in terms of manufacturing.

Two-storey (Duplex) House plans

The word duplex enters our language from French. As a word meaning, it means "2-storey house". Today, on the second floor, which has general living areas and a guest bedroom on the lower floor of duplex type house projects and is climbed by stairs; The owner of the house has a master room, a children's room. When designing a two-storey duplex house, the priority is a large living room and kitchen relationship. The best planning for this is to make a Mezzanine style design. That is, by creating a gallery space over the hall area to reduce the height of the hall.

For those who want to draw a two-storey house project, kea Design would recommend you to leave a gallery space in the design detail. If you are fond of comfort and want a modern design; A large glass wall in front of the garden, a few hobby materials and a beautiful design decorated with seating sets.

Luxury residential villa design & Decoration project in Damac Hills by Kea Design is a detached residence surrounded by lush nature and privileged views. From the main façade it gives reading of a home that prioritizes the privacy of its inhabitants.it combines simple lines and inclined roofs, a contemporary façade was achieved that balances volumes, subtractions and elements with a landscaping that becomes protagonist when receiving night lighting.

An extensive front garden separates the house from the circulation road. The pedestrian path allows you to appreciate the landscape and leads to a wall covered in stone slats that opens to welcome the main entrance, while being bathed by a subtle waterfall.

The property extends over the land seeking the greatest connectivity of the spaces with the visuals of the captivating golf course located in the back. Towards this are oriented the social areas of the residence on the first level and the main room with its complementary spaces.

Integration of indoor and outdoor spaces

Residential villa interior is accessed through the hall in standard height, and then transition to an imposing double height that surrounds the main room. The staircase with floating steps is developed on a wide structural wall covered in marble and wood finishes. It extends its first step to create a planter that evokes the exterior, whose greenery contrasts warmly with the finishing materials.

The architectural conceptualization and zoning of areas in Damac Hills was carried out seeking to have spatial continuity in the social zone and integration of the interior and exterior spaces. Thus, the living room, dining room, cold kitchen, study and barbecue area are developed around the main terrace, which extends along the entire views and allows visibility to the open space of the golf course.

In the interior design of the residential villa, elements of vibrant colors stand out on a neutral base of earth tones, filling these spaces with warmth. On that basis, each piece curated or custom designed by the firm kea design, from the furniture, decorative objects, plants and finishes, and fit out shine when mixed with the lighting design, as well as with the natural light that the residence receives.

The master bathroom was designed to take advantage of the beautiful views. A base of grays was used in the cladding, leaving the colors of the landscape to be dominant and a large mirror was arranged in front of the window to reflect the exterior.

In general, the home sense of modern times has changed a great degree. Along with the high-rise buildings in the overlapping canned box view, large villas with every part from their own garden to the scavenge have become very popular. We've become a naturally sought- after, researched home decoration of villa interior decorations, villas are generally designed to create a pleasant environment, mostly completely laid out of the city. Therefore, interior decoration is generally more important than any house in the center of the city. We've developed special interior decorations for each one, from the most modern villas to the most traditional designs.

We can basically divide the villa decorations into two groups:

Classical and splashed interior decoration models
Modern minimalist interior decoration models.

Both have their own distinctive characteristics. Both have their own distinctive styles of furniture. We've got both of these kinds of residential villa design & decoration. So, you have the chance to compare all the patterns and decide which one is best suited to you: In these houses, where white and cream run to gray and blue tones, the big windows are complemented by the simplest curtains. There's no carpet, there's little rags or clay. These villas are heavily decorated with a ceramic floor with a view to the octopus. There are also some of the laminate parquets. The walls have almost no coating, instead, it's made up of all natural materials and the simpler of the wall decorations. The new generation of villas is decorated in a way that wallpapers are not often used in interior decorations.

Modern, minimalist designs are ideal for a risk-free chin. It's illusive and light. When we take the examples of villa interior decoration, we find that classics are more expensive and more difficult. We can also call the interior decorations of this villa, which is styled but splashed with heavy curtains, as well as avant-garde decorations.

We can see that solid colors are not much in demand compared to the past. Today, kea interior design color architect tell us about the most beautiful color harmony. Furniture color charts have also dazzled with new fashionable colors. Racks took their place this year with eye-catching colors in many products, including seating group and furniture accessory products.

In the childhood of many of us, in our bedrooms we had toys to help us fall asleep, wallpapers with sheep, objects that we would count as numbers, etc. On the other hand, since the more children can fit in the children's room in crowded families is the better, there were no floor-by-floor bunk beds, beds with plinths and crowded rooms like this. Nowadays, children's rooms can be designed in a way that is completely left to the imagination of children. You can examine the colorful designs that will make children feel in the playground and have an idea.

✓ Fill in the Remaining Parts of the Corner

When we think of today's residential villa type, however, the exact corner places are a berjer corner. People were applying the same decoration 100 years ago. But you don't need to say that everything has changed anymore, the berjer can still stay in the same place. We think he is happy in his corner, with his lamp and his bookcase.

Be sure to be close to the work area. If you work from home, as you know, you may need to be working all the time. On busy days, be sure to be close to the study area to rest and take a breath for 10 minutes or read a book while lying down. People often think that berjer can be suitable for a living room or hall. But this depends on the question of who and according to what. For example, in our opinion, there is no such thing as necessarily. Berjer is suitable for relaxing and resting the head. Where it is convenient is the study rooms if possible. Berjer in study rooms can be an ideal design for instant relaxation.

✓ office wooden decoration

some furniture models are usually suitable for office buildings. It may also be for a residential villa. There is a high probability that different people will constantly live in the office. As such, there is a possibility of damage and obsolescence in a shorter time. For this reason, with a very durable wooden and high-quality item, you can make your office look beautiful and decoratively.

✓ Living Room Decor Ideas

We have some basic tips for you to plan the layout of your L-shaped living room inside your luxury residential villa in Damac Hills. When arranging your furniture, you should pay attention to the harmonious division of the two spaces. Pay attention to rugs/carpets and flooring in your L-shaped living room. It is of great importance to choose consistent flooring as you want the parts of the room to be in harmony and keep the energy flowing.

In addition, plan your lighting accordingly so you can improve the space and add some depth, L living room décor ideas are aimed at creating a useful space. It will be practical to choose a minimalist design, since L-shaped living rooms do not offer a very large space. Opt for lighter and more functional furniture decoration products and arrange the seating area so that you can sit face to face with your guests and friends and make the most of the space.

Have the Desired Cabinet with kea design

There are cabinets among the items that every age group uses daily in their residential villa. Thanks to quality cabinets, it is now possible to distinguish which section the clothes are in. Thanks to different types of cabinets, each age group orders cabinets that are suitable for their own color and style. The cabinets taken help to place the items perfectly.

Kea design company is among the helpful resource for those who want to choose cabinets. You will make your job easier with cabinets that have practical use and do not take up much space. Regardless of the cabinet model, all kinds of clothes are carefully placed in the cabinets. Thanks to the wardrobe options, dresses are no longer left aside. The cabinets, which are indispensable for those who want to get rid of the trouble of collecting clothes, make users smile with their color and model options.

For those who want to eliminate the clutter by meeting the need for wardrobes, wardrobe models end the trouble of collecting clothes. The production of cabinets is carried out in a healthy way. Cabinets that do not harm the residential villa owner in any way are frequently preferred in terms of convenience. Cabinet prices are available for every budget thanks to the affordable price advantage and easy installation offered by kea design, the interest in cabinets is increasing day by day. Cabinet models have options such as with doors, sliders, drawers. Thanks to the cabinet model with a lid, the cabinet can be easily installed and all the possibilities expected from a cabinet are obtained.

Finally, we should be aware that buying a luxury and luxurious villa requires accuracy in decoration, decorative furniture and modern parts selection to ensure that they do not fall into the trap of asymmetry, which makes the user who paid a lot of money to get comfortable in the desired villa regret his solo decision and here Kea Design proved that it is a pioneer in this field and there is no gap in its completed work in all its major and certainly minor projects.