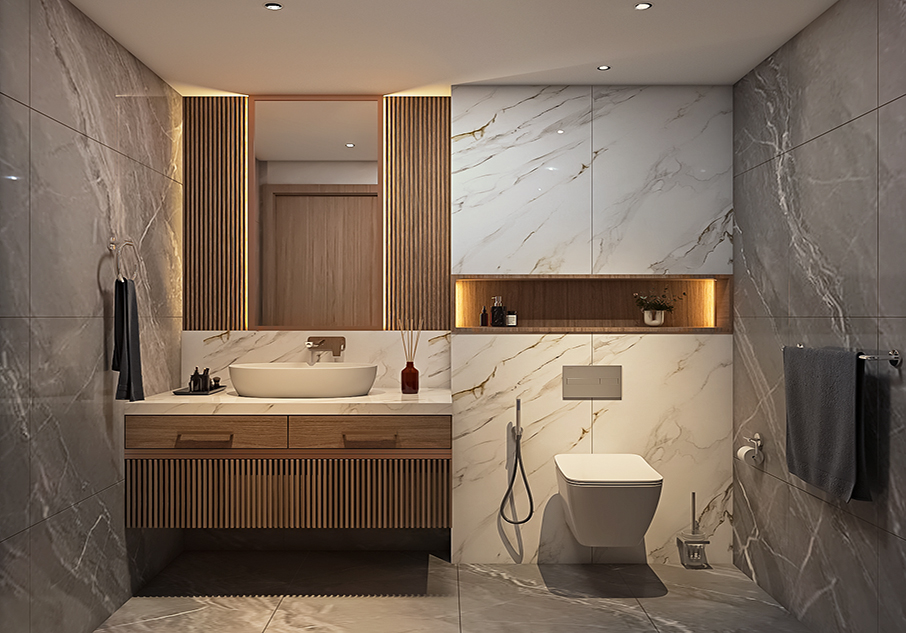 Color Tips & Painting Ideas To Make Your Small Bathroom Seem Larger & Luxury
Do you want to completely change the look of your bathroom by playing with trendy hearts? Here is a small summary of Color tips & Painting ideas to Make Your Small Bathroom Seem Larger, colors tips that invaded our bathrooms.

Basically, blue: This color that was thought to be old-fashioned is making a comeback in all its tones, from navy blue to turquoise, duck blue, sky blue or cobalt blue. Yellow and red also burst into the bathroom decoration in small touches or flat on a wall. Pastel shades are in the spotlight as well as the timeless white, black, elegant shades of gray, and more surprising ... Green. With kea design You are spoiled for choice of painting ideas to find your favorite!

Bathroom tile painting ideas: The blue color tips in the bathroom: well in tune with the times!

We thought that the blue in the bathroom, it was agreed, a little outdated, and even, dare we say it completely has been... Well, think again, this shade so rich in various and varied shades is well and truly installed in modern bathrooms. For a contemporary look, opt for sharp tones and don't be afraid to assert your choice! What could be more modern than a blue stained waxed concrete or a flat cobalt blue or duck blue (duck blue is also used in the rooms).

bathroom color tips

To stay in tune with the times, remember to paint only a part or a wall in this shade, it is much lighter, pleasant and enlarges your bathroom space. Do not hesitate to abuse the texture, this is what makes the decorative richness of your bathroom. Do you really believe that an electric blue concrete look can seem old-fashioned? This is how we should consider the use of this color idea. You can also proceed by touches to structure your bathroom, paint niches for example.

Blue is relaxing, but it can bring dynamism to your bathroom painting ideas depending on how you play with it. Marry it with a bright white, marble, material that is making a comeback, light wood and raw materials. It also marries with darker shades for a more cozy side. However, this association is reserved for spaces where natural light penetrates widely.

Another painting idea, blue plays with white. Under the basin it creates a real sculpture, but do not panic, you can create the same effect with the painting using a very graphic pattern for example. We also love the freshness of the white which contrasts perfectly!

To make your small bathroom seem larger, Mirror game, blue paint, natural wood and graphic tiles, for a sublime, modern and elegant combination.

Trendy bathroom color tips

Simplicity and freshness dominate this bathroom, and yet, it lacks neither character nor refinement. We can play the white and blue card thoroughly, with a beautiful textured tile that raises everything. Can't wait to dive into this pretty island bathtub!

Bathroom painting ideas

The presence of exotic wood on flat deep blue paint is a perfect success, add to that a few touches of white to illuminate everything and the result is spacious and spectacular!

Tints paint bathroom

Two examples can give a small idea of the richness of this shade and the effect you can expect from it.

Bathroom: Dare bright and tonic colors, but... by keys

If the bright color tips are superb and bring a lot of structure and a strong presence to your bathroom, they are preferably to be used punctually. You can avoid the total look which is a little outdated. In the hues of the moment, with red and yellow. These declined in all their tones, but still favor the most bright that give personality and character to your bathroom.

An intense yellow illuminates a bathroom with blue parquet, color tips blended with practically all shades and all furniture. In general, avoid light yellows that would seem bland and tasteless, prefer tones, curry, mustard or sustained. It offers a very contemporary version when it is worked with gray,

Same for red, the one that is very fashionable is almost fluorescent, after if you hesitate and it scares you, know that you can attenuate it by white or opt for a tone a little darker. These colors were used mostly in children's bathrooms color tips, now you find them in yours as well.

Bathroom painting ideas

A few touches of yellow for an elegant and refined bathroom all dressed in gray. A superb association, the room is awakened by the presence of a luminous hue.

yellow bathroom painting ideas

Bathroom perfectly structured by the presence of yellow on two walls on which the bathtub and the basin are placed, with marble of the Italian stump and a polished concrete imitation floor, for a second material effect that can clearly maximize the bathroom.

Red bathroom square

The power of red in this painting idea is attenuated by the presence of bright white and gray on the floor. Color that goes perfectly to red!

Red atmosphere bathroom color tips

Here, the matte finish that suits the deeper red perfectly. The three walls can be painted, but the atmosphere is modernized thanks to the choice of sanitary equipment and armchair. We can dare the total look, but it must also be managed in terms of its furniture and equipment.

Red bathroom atmosphere

A hyper bright bathroom that can afford the return of intense red color thanks to the immaculate white that soothes the atmosphere. This is an idea to try in a spacious bathroom.

Parquet bathroom: color tips and inspirations

You've read it everywhere, green in the bathroom is bad looking insurance... And indeed, it's true especially when it shoots yellow! Yet if it is your favorite color, no problem, you will be able to use it, but on one condition:

The advantage of the matte finish is that it does not reflect light and as a result, you avoid the complexion pulling on the olive that could depress you in the morning when you get up.

You can also pair it with white or gray to tone it down a bit. Here is a beautiful illustration of a successful wedding brilliantly and creating a refined atmosphere.

Do not neglect to protect all parts of the bathroom prone to splashing water, because the disadvantage of matte paint is that it is fragile in this damp room and often abused daily. Think before applying the paint to the anti-mold treatment. All in black and white, fashion that is making its way...

It is the trendy combination that rises and is absolutely chic. A graphic and elegant marriage, which we never get tired of. It can range from contemporary to romanticism, passing an industrial or design look, a real chameleon.

Black mosaic bathroom

A deep black solid and black and white cement tiles set the tone for your bathroom. The combination with blond wood is perfect and elegant.

Bathroom painting ideas trend, it is the colorful bench that highlights the superb white and black mosaic!

Pastel colors for a cozy and fresh atmosphere!

Do you like the boudoir side? Nothing could be simpler with pastel tones. From trendy powder pink to water green to pastel gray often forgotten and yet particularly refined, have fun and create the atmosphere you want with those painting ideas.

Softness and cocooning assured with pastel, you will not regret your new bathroom for tender and soft awakenings. You will marry them with natural color tips and materials, furniture in light wood, white or gray, metal accessories ... These shades bring brightness and are perfect for visually enlarging a bathroom.

Design bathtub

We don't often think of pastel gray and yet, it is particularly refined in a small bathroom. This feeling is enhanced by the retro-style island bathtub and its black feet, as well as the marble floor.

Example bathroom painting ideas

Powder pink or water green, in both cases, these pieces are particularly soft, soothing and fresh. They make you want to stay there and simply take care of yourself.

green bathroom color tips

Once again, the water is green with white for maximum freshness with the plant that awakens the look a little and brings an extra soul and the natural touch. Make way for the light with the bright white!

White crosses the years and is always present. Today, we adopt the total white look to enlarge and illuminate our bath space. We love its simplicity and freshness. And if you really want to, you can raise it with a touch of color or a light plant. And if one day, you get tired, just paint a wall, change for colorful furniture and accessories.

Modern bathroom

Freshness and light for a modern white bathroom that makes you want to spend time there as it is soothing. It is a perfect adaptation of decoration that suits bourgeois and character apartments.

Black in the bathroom is chic!

Do not hesitate to adopt black in your bathroom, and even the total black look. A strong character and elegance characterize the decorative bias. Ultra-contemporary, it perfectly highlights the most beautiful sanitary design equipment. A real setting for a very refined atmosphere, baroque or more classical. Like the white bathroom, it can evolve easily by changing just a sanitary, a few accessories or a piece of furniture.

You can break the monochrome by opting, for example, for a natural parquet, a few touches of gold or even hints of color. And why not put black and white cement tiles on a wall for originality and a little more authentic and traditional accent. Black has charm and elegance so it is the most beautiful effect in this space!

Bathroom color black trend

A perfectly successful total look that awakens a few touches of raw wood and plants. Only the white basins and the plan contrast with the dominant hue.

Grey, the touch as elegant as contemporary and timeless painting tips!

Once again, be placed under the gray color tips, that come in light or dark gray in the bathroom without problem. For more originality, play with textured materials and material effects with waxed concrete on the ground for example. The height of luxury is to add qualitative accessories. You can choose a very nice piece of light wood furniture to bring it a little soul. With gray, it's all about dosage!

Light gray and anthracite gray coexist in this bathroom, the bright white of the furniture and basins and the marble top accentuate the luxurious side!

Anthracite bathroom

We find the material effect on the gray wall in the soothing bathroom thanks certainly to some white touches and the presence of wood.

Faience Pink Paint color tips

Powder pink for a very soft little corner, without doing too much just the right thing! Note the gilded pipes and taps for luxury and the height of refinement. The rounded shapes further accentuate this feeling of softness.

Checking some achieved bathrooms color tips by kea design and adequate painting ideas:

Camaieu blue and white bathroom

A shade of blue and white, freshness and charm assured! We also love the island bathtub, a little retro in deep blue!

Traditional bathroom color

Simple, but perfect, blue, white raised by a bouquet of yellow tulips.

paint pink fishing bathroom

A peach pink that may surprise, but which is ultimately rather attractive, definitely your bathroom seem larger.

camaieu color blue black gray painting bathroom

Blue, black and gray perfectly highlight the basin with the desired design!

blue bathroom

Seduction assured in a bright bathroom all in blue and white. Natural materials and shades are preferred!

Bathroom partition

Black and white tiles bring character and personality to the room!

Color tips bathroom

Beautiful space in black and white with the gold touch that gives charm!

Pink bathroom

Here, the herringbone parquet reinforces the refinement of the bath area with its trendy powder pink flat!

Trendy bathroom color tips

A little retro side and maximum charm in this room!

bathroom storage

The gray is authentic with the cement tiles that seem to have been laid there for years.

Clean bathroom

Once again, everything is in the simplicity of lines and shades, for a successful result! The metro-style tiles and the pretty graphic flooring color tips give relief to this space!

Modern color bathroom

red case, the island bathtub stands out perfectly.

Color tips shower room

Refined and very elegant, a shower room that takes on precious looks thanks to its gold-colored faucets.

anthracite color shower paint, simple and yet very attractive!

4 space ideas for (too) small bathrooms

Sometimes bigger is just better.

Expansion idea 1: Move the bathroom walls

Here the new bathroom "steals" a few square meters from the neighboring room. And by wall breakthrough.

With which the bathroom can often be extended surprisingly easily, without interfering much in the floor plan of the apartment. Once again, the two rooms are separated by a drywall wall.

The best conditions for this bathroom expansion are offered by adjoining rooms, which you can and would like to reduce - typical are bedrooms that have become too large, but also large corridors often offer expansion potential.

You should also have all walls that contain pipes or pipes checked when removing the bathroom, as you may have to fold them down.

For whom is this expansion ideal?

For those for whom a little more space is enough - for example, if you just want to enlarge the shower or set up a wash basin for two. Even with a limited budget, this bathroom enlargement is a good choice.

Expansion idea 2: Adding the neighboring room

The new bathroom is added to the area of a neighboring room by means of a wall breakthrough.

Typical for such extensions are former children's rooms as well as unused guest or study rooms, whose area is added to the new bathroom.

Bathrooms that are enlarged in this way are often larger than 15 or even 20 square meters after the conversion - a pleasing amount of space for the spacious double washing area, the free-standing tub or a home sauna.

However, such giant baths also want to be set up and filled with life - which is not always easy with the area and certainly not cheap.

Expansion idea 3: Completely lay the bathroom

Here the bathroom moves completely, not always without problems, but when the finished bathroom is bigger, brighter and more comfortable, the world looks completely different.

Popular for such projects are roof conversions, but also in the basement can be set up thanks to modern lifting systems and great bathrooms.

What should you consider when choosing a location?

Place the new bath as close as possible to the old bath - existing pipes, pipes and drains can often be used more easily

Choose a room with a window- for daylight and fresh air

Expansion idea 4: Clever redesign

Larger bathrooms on the same surface, this is made possible by modern bathroom furnishings that use the available space more efficiently. And improves freedom of movement.

Move bathroom furnishings in the room - for example, move the new bathtub to the corner instead of longitudinally against the wall

Rely on multifunctional bathroom furnishings - for example on a shower bath instead of shower and bathtub or on a shower toilet instead of WC + bidet

It is also often surprisingly simple to rebuild the door so that it swings outwards instead of into the bathroom. Or to install a sliding door.

Ideal for ... Renovators with smaller budgets.