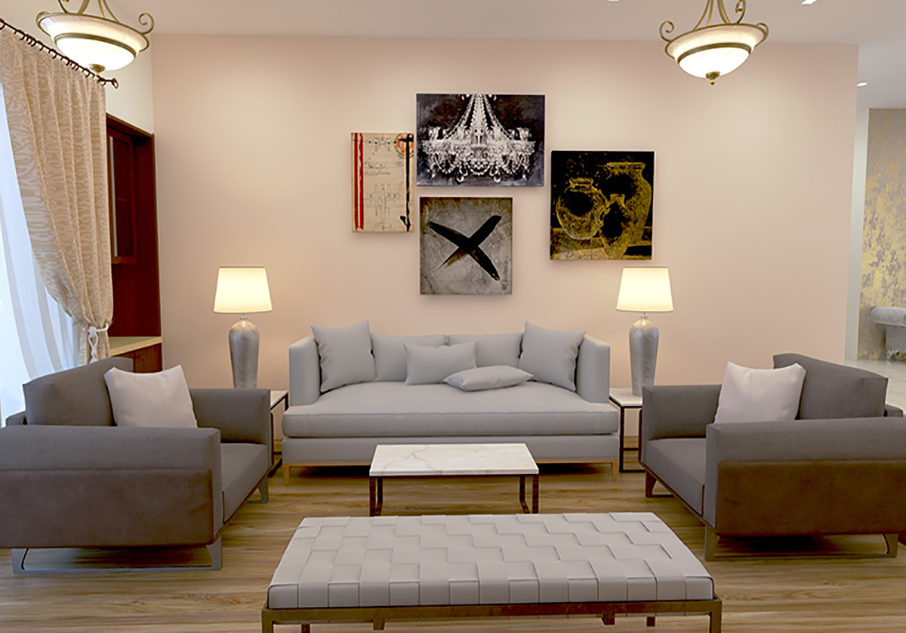 How Interior Designers Can Add Value To Your Renovation
Home decorator is the one who possesses the characteristic of creative thinking, the imaginative skills that enable him to invent new home renovation ideas and implement them on the ground and to conceptualize the ideas drawn taking into account the work space, and the qualifications that the decorator can obtain to do his work such obtain a bachelor's or master's degree in interior design, or a specialization in decorative engineering, receive a lot of training courses that serve as accredited certificates to enhance skills and understanding and the most important is to obtain sufficient experience in the field of interior design.

There is no doubt that the interior designer is one of the strongest types of designers at the moment, because despite the difference of customers in Dubai and in uae and the difference of their desires to make decorations, but the largest percentage of them need the designer significantly in order to get his services in the interiors of houses, and if you want a designer capable of providing this role, you must deal with a professional designer who can provide the strongest services and can make professional and distinctive designs briefly and at appropriate costs, In addition to being able to understand your application.

Understanding the customer is a must at kea design uae, one of the most important specifications that must apply to the interior designer that you will deal with at the moment, is to be able to fully understand the customer and all the desires he wants to achieve by communicating with him from the beginning, when the interior designer can understand everything that the client needs, he will surely be able to make a super wonderful design and will be admired by the customer for being highly imitating his desire without headache.

Nowadays, residential interiors are one of the strongest decorations in uae, and the decorator you will be dealing with must be able to make those modern designs and be fully aware of all the powerful types that appear all the time, this is what makes kea designers able to keep up with the development and offer distinctive types.

How to highlight the residential interior with decorative accents?

Use of bright color details in the interior allows you to make it dynamic, original, and memorable. What you need to receive guests, beautiful photos, and fun for you every day!

Accent colors:

The general trend of monochrome interiors is in friendly terms with this type of accent. Just choose between contrasting colors and use them in textiles, home decoration, or furniture. The main thing is not to overdo it: then the interior will be colorful, and the accents will disappear; Majorelle blue and very peri style took large place in Dubai, uae this year: accent colors are hues used within a color scheme to add emphasis to a room, they're used sparingly to add emphasis, contrast, or to create visual rhythm.

Rules headlines:

60% – primary color.

30% – additional or shades of the principal.

10% – accent color.

This method will revive the beige, white, coastal blue and gray interiors, and in addition, the accent can be changed from time to time, transforming the interior into a single movement!

Bright accents:

Any residential interior can be quickly changed almost beyond recognition, and all this with lighting alone!

To visually increase the space, use:

1. Reflected and diffused light.

2. Symmetrical lighting of all corners of the room.

3. Same luminaires placed on a wall.

To elevate the ceilings, wall sconces directed at the ceiling are useful.

The room varies greatly depending on the heat and brightness of the lighting; you can also choose lamps with color lighting. Another impeccable technique: highlight certain areas. For example, a floor lamp near a chair, a wall lamp near a wall mirror, sconces above the bed, LED lamps for the kitchen, beds...

Decorative accents

Here, everything is simple, just choose the decor! Trendy wallpaper, textiles and plants make the room more comfortable; mirrors visually enlarge the space, paintings highlight the walls and shelves with numbers, travel memorabilia and books are a great way to talk about your interests.

How to showcase your indoor plants?

What is certain is that we do not do without it anymore: plants are a sensation in our interiors, hence our desire to multiply them, from the timeless cactus to the inevitable Pilea, find the pot covers, pendant lamps and planters that will highlight all your plants. Are you ready to set the scene?

Indoor planters and greenhouses

The greenhouse exposes in a beautiful way your favorite plants, this charming and authentic decorative accessory is also very useful for young shoots or plants that need to be incubated and protected. Whether made of wood or metal, white, black, or brightly colored, the greenhouse is welcome in all rooms of the house: entrance, house, kitchen.

Don't have a balcony or garden? This is the ideal pretext to find an indoor planter, along a wall, in the kitchen or in front of the window, the planter has the power to create a unique evergreen corner. We imagine it very well highlighting pretty succulents and cacti of all sizes. Unless you prefer to have a vegetable garden at hand by adopting a bunch of aromatic plants.

Pot covers: With the pot cover, nature is trendy! A single watchword: accumulation! Opt for a multitude of plants that will create an indoor forest. Mix several varieties: cactus, succulent, Pilea, Sansevieria, Monstera deliciosa... And to accompany them, you will need pot covers as beautiful as each other. They will treasure your plants while enhancing them. So exit the eternal plastic or terracotta pot covers. Dare the combinations of materials and colors and mix modern and original designs with more classic lines. Kea design UAE guarantees you: it works! And there are plenty of pot covers in many styles. Zoom on this flood of pot covers of all kinds:

The ceramic pot cover: like an artwork, the ceramic pot cover combines charm and elegance, and welcomes all types of plants, ceramic pot cover with robust material and aesthetics. It infuses a special atmosphere depending on its shape and color. We take pleasure in discovering it more and more restyled, with a touch of modernity in its look.

The braided pot cover: authentic, exotic, warm, the braided pot cover has become over the years a real must-have of home decoration. Whether it is made of wicker, rattan or made from another vegetable fiber, the braided pot cover sets the tone and perfectly combines tradition and modernity. Small or large, it imposes itself as a master in the room, for your greatest happiness and that of your plant, although it still pleases as much by its natural color,

Suspensions

Trendy and space-saving decorative assets! In addition to guaranteeing a decoration in tune with the times and more space on the ground, it has the advantage of beautifying both small and large areas. Studio, apartment, house: nothing resists him! There are many reasons to welcome pendant lamps in your home: hanging plants bring a different vegetal touch, brighten up the windowsill, and do not neglect the functional side of a practical entrance. You must be able to hang the coats, take off your shoes easily, put your keys, your phone ... We therefore provide suitable storage: a closet if possible, or at least hooks, a small shoe cabinet. If you have enough space, you can install a small armchair so that children can easily put on a full-length mirror, to be attached to the back of a door. Punctuate the living room. You will have understood it: they are all the rage, and we love it! Suspensions in ceramic, metal, macramé, rattan, jute... Let a vegetal waterfall invade your interior, and do not hesitate to mix shapes, materials, and colors to get a nice rendering

Do you like the industrial style? Instead, choose a suspended concrete or metal pot to have a "raw" effect. If you want an ethnic chic atmosphere, the suspension in macramé or jute is a great ally. If you are looking for a modern note, opt for a more minimalist design with a wired pendant lamp or a suspension of geometric shape or animal shape.

The floor is also entitled to a touch of originality. For example, cement tiles can be laid there. Quite fragile, these however need to be treated regularly to protect them from stains. Easier to maintain, porcelain stoneware, ideal in places of passage because it offers excellent resistance to trampling.

A well-defined space: another pitfall to avoid neglecting its airlock side. The entrance is designed as an area between the outside and the place of life, do not hesitate, without necessarily partitioning, to separate it a little from the rest of the house. A slight separation, such as a screen, a sliding door, or a glass roof, makes it possible to delimit the different spaces.

The decorator of boards must be a highly professional designer, the demand for boards work inside homes is one of the increased requests significantly in uae in recent times, due to the desire of many customers to make strong and modern houses inside their homes in order to receive guests and close ones inside them, according to the type of council itself, and this pushes them to look for a professional designer who is able to design those boards professionally and efficiently.

In addition, he is very keen to make the strongest creative and distinctive touches to increase the beauty of these traditional house decorations, and offers other important roles summarized in the following:

Entire majlis design

When a person goes to a professional decorator, he will make the strongest possible design for this board, either recognize the client's desire and hand him a design that corresponds to that desire or do the design work after knowing his global requests.

Majlis Improvement

The role of the decorator is not limited to the design of the majlis only, but one of the distinctive roles that he then plays is to improve this place in general, by choosing the colors for the décor he has designed, in addition to determining the shape of the needs for this design, and everything that the caretaker must provide to have an impressive and professional majlis.

Many customers spend their time looking for a decorator but not a professional designer, they need to communicate with a designer who provides his services at a cheap price unlike professional designers, and this, a big mistake and waste of time, but when you connect with a kea professional designer, you're sure to benefit from several important advantages, which are summarized as follows:

Design that simulates your ideas:

Surely there is a certain form in your mind, and you would like your general décor to be available in this form, and the advantage of a professional decorator is that he is able to make that design in exactly the same way, that will be very amazing for you, but be sure that this is completely normal, as a professional designer can understand the client as much as possible so that he can then make the right design for him adding his touch , skills, advices, and experience.

No errors:

This feature is also one of the most important advantages that you benefit from, when dealing with the professional decorator ,is wide professional departments at kea Dubai, such book free consultation, shop bedroom furniture, home decoration ideas, interior design magazine uae, supervision, quality control, designing, architecture, latest trends, on… no mistakes will be committed, because we aim to provide a high quality and professional service significantly to all our precious customers and this our strength being one of the best design companies in Dubai, uae.

Bedroom décor designer

In fact, specialization is one of the most important things that have happened in the world of decoration design, where it can be said that this specialization has provided a great opportunity for creativity and each designer is able to innovate in the field in which he specializes in a large and very superlative way, so customers are looking for designers according to their specialties, and it can be confirmed that many of them are looking for a bedroom decoration designer at the moment, In order to have professional and integrated designs that can be started within the bedrooms, and if you are one of those who really want to, make sure that kea design company uae assign a lot of designers who are able to impress, each in his field and client will benefit from them greatly, as they have ability and creativity.

What are the principles of interior designers and interior decorators?

Visual guide for a customer to understand and understand the space just by looking at it.

Unity is to have a sense of harmony and harmony among all the elements used. Unity is the way we are convinced that everything that exists in space is one thing and depends mainly on the smooth transition from one element to another through color, texture, or pattern. Many designers work to start from this framework within narrow limits, such as using another method in a codified way, such as proportionality and proportionality between repetitive shapes and balance in colors.

Equilibrium is the evenly distribution of elements to achieve visual equilibrium, and this balance can be according to different scales, for example, on a linear axis or in a central radial pattern: Rhythm is a pattern of constant movement between different elements of interior design, this movement is important for maintaining the visual pace between elements that have different visual weights

Choose a decorator: When you are looking for a strong decorator, it is certain that you need to make your own design, as it can be confirmed that this will make you get a real satisfaction and you will be able to start it with the rest assured of its success rate, which will be completely achieved at kea design Dubai, but to ensure that you must determine the type of designer you will deal with, and that is what happens according to the type of design and decoration you want to start with, there is also a specialization among Designers, you should also know all the roles that are performed by interior designers.

Make a ready-made design: The most important role of interior designer is to communicate with customers and let them benefit from the services he provides greatly, making a ready-made design inspire clients about the quality, and accuracy ; when you request design service from the designer, he will show you ready-made designs that you may like and get to start making your home décor based on them, and make sure that you will find the strongest designs that this designer has done before.

Furniture accessories: can be added with a variety of choices; kea designers will lead you choosing through online shopping uae, accessories to decorate your space in best way and lower cost.

Nevertheless, interior design is not a hobby for everyone, only talented, skilled and enthusiast professionals can make the difference: So, benefit from the wide collection of furniture designs available at kea design uae, and book free consultation immediately to enjoy unexpected creativity.