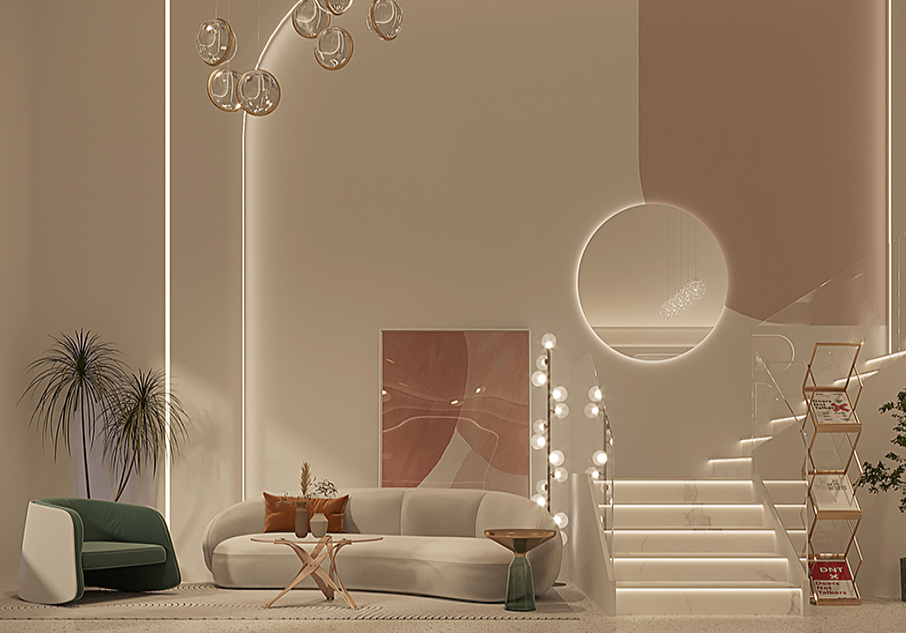 Importance Of Lighting In Interior Design
Decor, home decoration and interior decoration ideas are not a collection of improvised cosmetic elements, but a world in which art blends with the knowledge, science and personal talent of the creative designer that brings him to the horizons of imagination, turning them into small paradises that are so wonderful and ancient on earth.

Lighting is a fundamental element of life and beauty in an interior design concept at interior design companies Dubai, uae. Recently, lighting has become a fundamental point thanks to quality given by skilled designers and the products implemented in high performance besides illuminated libraries in this domain is public as well as indoor.

Different advantages show up: health and quality of life, aesthetics, energy saving

HOW IMPORTANT IS LIGHTING WHEN IT COMES TO INTERIOR DESIGN?

Good lighting:

decreased fatigue for eyesight.

increased productivity and safety.

increased visive piercing.

Mood positive impact.

Apart from these lighting elements, the aesthetic aspect is enhanced: a design lamp improves the comfort and quality of the habitat by creating an atmosphere, a decor, reduce or enlarge a space also LED technology allows saving of energy resources and costs: LED lamps have a longer duration with a minimum consumption compared to normal traditional lamps: these new technologies allow a reduction of at least 40% of power, so light is essential in nature as well as in architecture and for design.

This quote allows us to see how the great buildings of Dubai, uae internal spaces in which interior designers aim to give character and magic in lighting. It is therefore necessary to take advantage of this experience to implement a project that is up to the mark of value.

Natural lighting where possible and artificial lighting with modern means of technology: "Pursue and capture the light" is the main purpose of any project to make an atmosphere more pleasant to the one who uses it but also to the one who looks at it.

Lighting Design Basics: Ambient, work and accent lighting

Lighting is an important piece of the interior design riddle. Lighting in interior design plays a very important role in your experience of a space. A successfully designed room requires a mix of three basic types of lighting: ambient, work and accent.

1. ambient lighting

The purpose of ambient lighting is to provide uniform and uniform light to a room. Wall lighting, such as a wall lamp, also provides ambient lighting. Always use dimmers with ambient lighting! This way, you can adjust the lighting level according to the time or mood you want to create. You can have several circuits in a room in order to reduce the intensity of certain lights while illuminating them more.

2. Work lighting

Work lighting is important for performing specific tasks, such as reading, doing homework, cooking, or getting ready in the bathroom. Table lamps and elegant floor lamps are ideal for this purpose in living rooms and bedrooms. In the kitchen, use hanging and under the cabinet lighting to illuminate the cooking and food preparation areas.

Work lighting for a bathroom includes bath bars and light arms. For a contemporary look, consider adding a pendant lamp, it is becoming more and more popular in bathrooms.

3. Accent lighting

Accent lighting adds additional visual interest to a room by creating different focal points and is another element of importance of lighting in interior design.

Accent lighting highlights specific objects such as art, sculptures and libraries. It can also be used to highlight a textured wall or other architectural elements; accent lighting adds relief to a room by creating visual interest in an object or area. As part of an interior design project, it is used to draw attention to indoor plants, paintings, sculptures, and other valuables, and conventional rail lighting and image lighting are often used to provide accent lighting.

accent lighting adds relief to a room by creating visual interest in an object or area. As part of an interior design project, it is used to draw attention to indoor plants, paintings, sculptures and other valuables.

lighting design is an important step in the approach that the interior designer follows in any project; Indeed, light collaborates in the good perception of space, it considerably changes the appearance of objects and spaces and gives a different identity to colors. Scientific studies show that the moods of human beings change according to the degree of lighting and nature, for example, daylight, artificial lights... etc.

The correction of lighting becomes more and more essential when it comes to renovating, it allows us to reduce the cost of work by working only on this axis, as a result the intervention of light on the virtual plane creates atmospheres a term known in decoration designating an atmosphere specific to each space even when it is open to others; this is the case for modern dwellings or lofts, lighting then becomes a means of restructuring in home décor uae.

Interventions applied through lighting:
Lighten a column to weaken its too cumbersome presence, a technique that consists of illuminating the top and leaving the base in the dim light.
Emphasize and highlight a structure or object, in this case it is necessary to illuminate at the bottom and leave the upper part in the dark.
Optically correct the height of the parts when any other intervention is not possible.
The perspective of a corridor or a room in home decoration ideas, that is too high can be corrected by the integration of a particular light. Lighting the walls, downwards, from 2/3 of their height, makes it possible to put the ceiling in the dark and, therefore, to visually bring it closer to the floor.
Increase the width of a space too narrow (for example a corridor), it is advisable to illuminate only the walls unlike the floor and ceiling which remain dark.
Focus the light on a painting, a décor, or any element likely to generate a particular interest... The intervention is doubly justified, and the more banal elements can, if they are well placed and well illuminated, give a certain charm to a room.
A good exploitation of the lighting possibilities highlights the characteristics of an object and consequently makes "forget" these negative aspects.

Not forgetting that lighting is an electrical installation, for this it is better to give it special attention during the renovation because it is more difficult to integrate it correctly.

Lighting is no longer limited to simple lighting, but has gone beyond its true meaning to join the knees of development and creativity, the diversity of its different forms and sources made it a single piece of art in the world of home decoration, looking for the place that suits it in the composition, to become part of the spaces that spreads warmth and mystery to give its radiant reflections a modern touch in harmony with the spirit of the ancient era, and play an important role in the game of light and shadow , create visual effects, and give more luxury to the atmosphere as it meets the practical, artistic and aesthetic requirements in the world of Interior.

The Art of Lighting Distribution:

Innovative ideas, concepts and forms of lighting have become considered in residential interiors as essential elements in reviving spaces and giving them a distinctive spirituality, each place has its own lighting to highlight and distinguish it, so the time and effort exerted to make coordination is worth it, for example, chandeliers with their bright stones and bright crystal luxury fit salons, palaces, and hotel halls.

The dining hall fits the chandelier hanging over the dining table directed to its center, in the living room and reception halls strong comprehensive lighting is necessary, focusing on the lighting focused on some corners where the pieces of art to be highlighted are located.

Bedrooms need a wide variety of different lights, from dim for comfort, to bright cleaning and makeup, to focused lighting for reading. As for the kitchen, the lighting should be varied between bright for food preparation activities, and the overall lighting or background lighting for eating.

The entrances and corridors should be safe to light, taking care to add a pleasant intimate atmosphere, while long corridors prefer that the lighting is not directed upwards but on both sides of the corridor, and radiates its light downwards.

Some kea design Dubai, uae principles in lighting in terms of colors and shapes:

Yellow lights are the most beautiful and glowing, and we find them in modern buildings, palaces, majlis and main places in the house.

Paying attention to the distribution of lighting well and directing some of it to the corner free of pieces of furniture, using mobile lampposts of their quality directed up and down, this type of lighting gives a sense of amplitude and spaciousness.

As far as possible, the lighting should not be exposed to the eye or directly focused on it, but rather hidden so that the room derives its illumination from the reflection of the lights on the walls, either through gypsum decorations or floor units facing upwards.

As for the exterior surroundings of the house, the most beautiful lighting methods are illuminated from below, directing gas lighting through large searchlights upwards. When choosing luminaires you must take into account the place, space and purpose, in order to get the coolest and most luxurious of them, there is a huge number of chandeliers and varied, such as fluorescent, halogen, illuminated threads, and other modern lighting means that are transformed in color and strength, thanks to careful programming by designers looking for difficult challenges, To add a new aesthetic dimension in dealing with spaces and creative theories that respond to the values of originality and tradition that translate sophisticated avant-garde designs that are out of the ordinary.

Color and light

They are employed together to bring about many different effects. The dark walls in the room absorb a great deal of the light falling on them and do not reflect it, so the room looks dark but the same amount of light, in a pale colored room makes the lighting bright because of the pale colors reflect the light.

The interior designer is distinguished when he lives inside the space with his mind before he thinks about design and when he has the courage to convince himself and his customers of his home decoration ideas without fear of risk, mental presence, armament with computer programs and the possibility of making initial sketches that express what is going on in his imagination in a convincing way

The interior designer is distinguished when he can invent new home décor ideas that reflect positively on the space and when he can communicate the idea to the client in the easiest way, have the ability to persuade and the ability to deal with all the problems facing him in the design.

The home decorator is special when he is creative in his ideas and familiar with the foundations and programs necessary to get his work out and communicate his ideas to society and to be the owner of his vision, insight, and imagination.

Although interior design requires technology and planning, creative imagination makes its owner highly capable of outstanding uniqueness in the aesthetics of the home design except in terms of idea or design features for purpose and place in terms of colors, materials, security and safety taking into account the possibilities of future modernization and this keeps the design not rigid but viable and surviving because when implementing it took into account all the values and needs of material, psychological, social, economic and cultural.

Lighting in interior design goes beyond lighting to creativity and attractive artistic composition:

The study of interior design gives its owner the scientific and cultural dimension and the foundations he needs in his work, from scales, drawings and designs that lead to knowledge, know-how and deep study to bring them out in a mold based on the knowledge of his official and professional style, indicating a study in this field. The balance and interdependence of all elements of the space in terms of décor and geometry, such as lighting, colors, ceilings, floors, home furniture, and accessories, must be performed in a harmonious rhythm. Each designer has a spirit that reflects his own transparency that reflects his taste and personality, and his aspiration for advanced technology in its thoughtful, high-level forms, capable of blending the old and the modern with a new classicism.

All of the above is fundamental, but it is not enough and does not give his field of creativity unless the successful interior designer has the inimitable talent with creative inclinations, and grew up in an environment and artistic background that draws from its creative springs, so that he has the opportunity every time to accomplish distinctive designs and creations no matter how large or small the space, kea interior design company Dubai, uae includes several areas, including design, manufacturing and distribution, and this field has expanded a lot and has witnessed a great development through geographical expansion and openness as the world is accompanied by a rapid development of materials, rationing and trade.

Lighting is one of the essential cogs in the elements of interior design, but most of the time it doesn't get the attention it deserves. It should be borne in mind that for any luxurious or attractive design, proper lighting is required.

Man-made luminosity has changed the way we live and see:

Light bulbs have evolved over the years, helping humans in far more ways than we can imagine. Whether it's to increase the average length of a working day or to be a faithful companion in dark nights, light bulbs have been a driving force in everything we do.

Kea, best design company in Dubai, Using the right type of lighting in the right place, essential for your home to shine brightly. Lighting is used in conjunction with other areas of interior design, such as color selection, size, and mood of the room. It is only when these elements come together that a room benefits from the harmony and fluidity of the design. Through home décor online shopping uae, several choices of lampshades are available at kea design company to master the light and sublimate your interior.

Brief, in terms of lighting, you must certainly choose lighting but above all an atmosphere, before buying your luminaires, ask yourself the question of what atmosphere do you want to create? For more privacy in a room for example, you will make sure to put bedside tables or wall sconces.

Our success at kea design company characterized by creativity and projects implemented throughout the UAE proves our merit and skill in working and avoiding any kind of fit-out mistakes; don't hesitate to ask for free book consultation, certainly you will admire consequences.