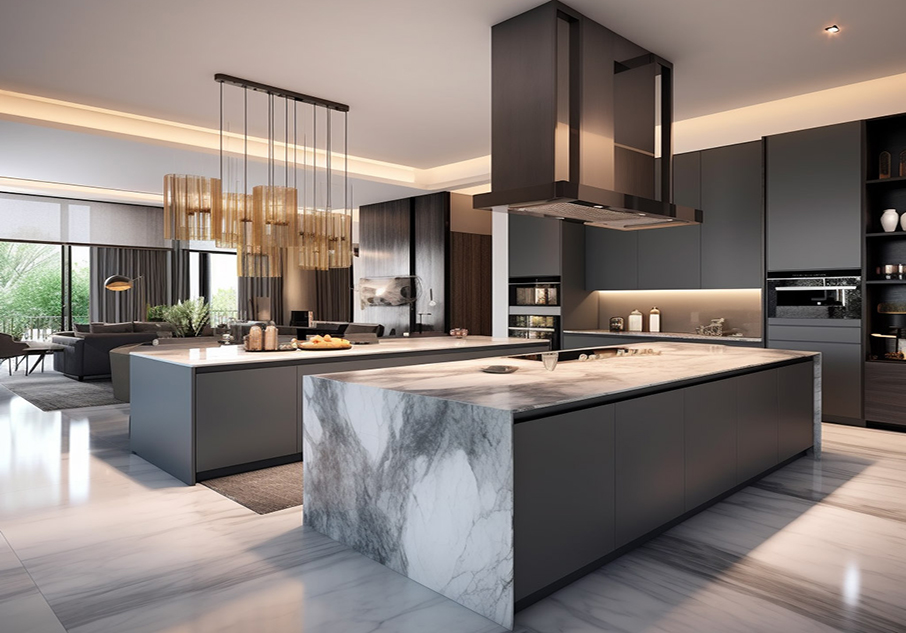 Tips On Modernizing Your Home Interior
Modernization: What is really worthwhile?

Many old building buyers and heirs want to bring their houses up to the latest state of the art with a modernization, transform small rooms into open living space or expand the attic. There are enough ideas: but modernizing your house can incur high costs. Which work should be tackled, what should be dispensed with? We give tips on what pays off and what can be postponed:

Tip 1: Weigh the costs and benefits of modernizing your house

With a modernization, the market value of the property increases, after all, modernizing your house or your old building offers more charm and quality of living, comfort, and space, and it can be used more practically.

Many people prefer to live in a grown environment of a new housing estate and find it attractive to live and work in an old building.

Design modernizations such as a well-kept parquet floor or a beautiful staircase enhance a house as well as sufficient thermal insulation or a modern, energy-efficient type of heating/cooling that reduces energy costs. The basis of all value increases is a technically and creatively successful modernizing with clever building technology, good building materials and professional work. Wood, for example, is popular, proven and healthy; many renovators and modernizers choose this building material.

Tip 2: Create a modernization plan

A comprehensive modernization of the building technology is usually worthwhile: The house can be maintained more easily and inexpensively in the future. Which investments could make sense for your old house depends, among other things, on how old the property is, which building materials are used and, of course, on what measures you take? Depending on age and condition, the following modernization measures are appropriate:

Improvement of heat, sound and/or fire protection

Replacement of windows and doors

Bathroom renovation, kitchen

Modernization of building services

Interior design of floor, wall, ceiling and staircase

Roof extension, or conservatory

Heating/cooling replacement, conversion to renewable energies

Tip 3: Involve professionals

No matter whether your property is getting old, you want to buy an old house or have inherited an old building: It should be more modern, perhaps bigger or just more beautiful. You have it in your hands that modernizing your house runs smoothly. Inspect the object thoroughly from the inside and outside and from the basement to the roof. Write down where it has obvious defects or even damage and how you want to fix them. Ask an interior designer, energy consultant and master craftsman of various trades whether your ideas can be realized and whether you have thought of everything. Experts can also point out damage that is hardly recognizable as a layman and even the expert sometimes only recognizes at second glance. Timber construction professionals such as carpenters check the health and resilience of the timber components. Energy consultants will tell you whether the insulation of exterior walls and roof is sufficient and whether new windows should be installed. A master painter can give tips on how to make the façade appealing. all those available at kea design company with lowest costs.

Tip 4: Set priorities

Now it's about prioritizing the most important measures. After preliminary discussions with the experts and based on your notes, finally determine what should remain and where you would like to modernize. Divide the work into urgently needed and those that can be postponed – this is how you equalize the financing and protect yourself from the feeling that too much is coming to you at once. What do you wish for? You gain more space by rearranging the floor plan, outsourcing the staircase, roof extensions.

Higher comfort promises, for example, home automation, wider doors, modernization of the bathroom or the improvement of sound insulation, protective canopy. With a new cooling system, good thermal insulation and new windows, you can save energy and reduce your operating costs.

In very old houses, it may be necessary to renovate the substance and increase the load-bearing capacity of individual parts of the building.

Visually, you enhance your property with a fresh façade paint, with a modern front door, beautiful shutters or a protective canopy.

Tip 5: Get quotes

A cost plan on modernizing your house quickly shows what you can afford and where you should cut corners. Get cost quotes for all trades that will be involved in the modernization – have three craft businesses make you offers for each construction task. During the bid review, you also ask questions about costs and construction time and consider before concluding the contract whether the hoped-for benefit is really worth the possible effort. However, keep in mind that not every extra pays off in the case of a possibly planned sale.

Tip 6: Create a financing plan and apply for funding

In order to determine the exact financing amount of the modernization measures, add the cost estimates of the craftsmen with the costs for architectural services, building application, building expert, energy saving certificate.

Tip 7: Check and maintain load-bearing capacity before modernizing your house If you want to move walls or remove the roof, you put more load on the house construction. Before an extensive modernization, you should therefore check the statics, the load-bearing capacity of the existing components, and have them recalculated if necessary. They must be stable enough to withstand themselves and future burdens. If the load-bearing capacity of the existing building is not sufficient even before modernization or if loads are added, they are adapted to the new, higher requirements – these can result from thermal insulation and cladding of sloping roofs, installation of partition walls or intermediate levels, expansion of the previously unused attic into living rooms, addition of a bay window or increases in the roof.

Tip 8: Apply for the building permit

Building regulations regulate the use and design of a building and its stability and building physics, heat and moisture protection, sound insulation and fire protection. For historic buildings, there may also be monument protection requirements. Depending on which modernizations you are planning, you may need a building permit. Information about this can be found in building law authority.

Change of use, for example if living space is to be created from a storage tank

Changes that affect the stability and functional safety of the house

Change of external appearance, for example the installation of a dormer

Without a building permit

Beauty repairs

Modernizing building services

Improve thermal insulation, sound insulation and fire protection

Regulations on heat, sound and fire protection must also be complied with for modernization work without a permit

Tip 9: Comply with modernization regulations

Regulations on sound insulation

For new homes, double, terraced and multi-family houses, there are regulations for sound insulation to be observed, which may also apply to renovations.

Sound insulation measures dampen noise that enters the house from the outside and they protect foreign living or working areas from noise from their own homes. One standard distinguishes between sound insulation levels I, II and III with proposals for increased sound insulation in multi-family and terraced houses. In new buildings and for old buildings, the standard applies if their use is to be changed – for example by roof extension or conversion. If you are carrying out a comprehensive modernization, talk to your architect and wood professional about the extent to which planned insulation measures improve sound and fire protection at the same time.

Regulations on fire protection

For houses that are to be used differently after modernization and/or whose supporting structure is changed, fire protection regulations apply as in new buildings. The municipality building regulations prescribe for the individual components which fire resistance duration they must achieve and which materials they may be made of.

The fire protection measures depend on the height of the building, the function of the component and the type of use of the building. A "low-height building" is any in which the floor of the top floor is less than 7 meters above the site – its exterior walls, roofs, partitions and ceilings must reach fire resistance specific class. This means that components of this class can withstand the fire for at least 30 minutes and they may contain combustible materials such as wood (normally flammable), but no materials of building material class (highly flammable). Stricter requirements are placed on building partitions and in higher buildings.

What is the difference between modernization and renovation?

Structural changes that reduce the energy requirements of a house, save water, increase the value of a property or generally the quality of living are modernizations. In practice, minor improvements are often also included. In the case of renovation, for example, the building fabric can be renewed, pipelines replaced or the statics changed. One speaks of a renovation above all if it restores the usable, stable and purposeful use of the building. In this respect, modernization can be part of a renovation. For extensive measures that improve the energy efficiency of a building, the term energy-efficient renovation has become established.

A family home requires regular maintenance. At some point, you may even consider a renovation. Do you want to bring a little contemporary touch to your family home? Here are small details suggestions by our kea design team to bring modernity to your interior and modernizing your house:

1. Declutter your bedroom

The bedroom should be soothing so as to guarantee languorous nights. To modernize it, it is enough to ventilate it well and declutter it. For the walls, apply a modern color such as blue, water green and why not a touch "tie and dye". Remember that every detail counts for a modern visual. For your bed, use a very design headboard as well as a waterproof mattress protector for a deep sleep.

2. Set the mood in your stay

A modern house requires animation, especially in the living room. For this, you can play on the effects as well as on the materials. Pair your velvet or suede living room with a furry carpet. For the coffee table, choose metal, a material that has become very trendy again today. Be careful not to abuse with mixtures of materials!

3. Working on the lights in every room

In addition to natural light, play on other decorative lights to bring more life into each room. Consider changing the traditional round chandeliers with modern hanging ones or industrial street lamps. To create light, install glass roofs, very practical in a contemporary house. As for rooms without windows, put a glass strip on them to provide good lighting.

Choosing the right lighting for the place where the addition of white lighting that reflects the colors of the décor and furniture adds an advantage to homes compared to yellow lighting that affects the colors of furniture and is a bit annoying, and this includes all lights, whether it is for tables, corners or in the ceiling

4. Use natural and sustainable materials that are very trendy

To revamp your family house, use natural materials. Naturalness and modernity are perfectly compatible. For these materials, decorate the interior of your home with stone or wood. For mattress protectors, bed sets or curtains, opt for soft materials. So, you have the choice between cotton, linen or canvas.

5. Install glasses and mirrors to create a sense of space

Today, all houses, large or small, can be renovated to have modernity. To offer an impression of space in small rooms, play on colors and decorations. Even better, use mirrors as well as canopies as decorations. Decorate your home with floor-to-ceiling windows and windows to bring clarity.

6. Choosing the right furniture for your style

In addition to the mattress protector, the choice of furniture is important to bring a contemporary design. Prioritize furniture that you like and not those that are only functional. If your family house is spacious enough, put furniture in it that is large in volume and contains a story. For some time now, the use of untreated furniture has even contributed to a modern and natural atmosphere in your home.

7. Bet on color to bring cheerfulness

No more one-tone walls! Today, nothing prevents you from working on other colors, in addition to white for the walls. Moreover, for a contemporary interior, do not skimp on bright or dark colors. Black, gray, green or taupe are very trendy for some pieces. Just remember to mismatch the color of your walls with those of your furniture

8. Review decorative objects

Decorative objects also hold their place in the makeover of your house. You can put a few photos on a shelf, in order to leave memories. Remember to put some vintage objects such as a decorative bell, also serving as an extra lamp. Install wall sconces to have softness and dim light in the room.

9. Highlight your dining room and kitchen

For the "family home" trend, it is important to work on certain elements of the kitchen. Do not hesitate to mismatch the chairs in your dining room. You can either mix their color or mix their style. For the kitchen, bring a brush stroke to the cupboards. Make sure that their color blends with that of the walls. Also use aluminum or stainless-steel design handles or buttons.

To reach the goal of improving the décor of houses and modernizing your house, especially with regard to private rooms, work on the details in the house they add vitality and make it modern and usually accessories small pieces in the décor cost less than large pieces and these touches change your house completely.

Modernizing your house by changing the colors of paint as many colors add luster to the house in general and this depends on your taste in choosing colors and furniture plus adding a number of pillows throughout the house as it brings comfort to visitors and residents of the house, especially this will fit as a kind of bedroom decoration for example. Pillows of large size are usually more likely.

Adding curtains to windows as it is considered one of the main factors to improve the décor of the house as by changing it may change the shape of the house or room. There are a lot of people who prefer to add curtains especially in children's bedrooms to make the rooms look tidy.

Replacing carpets with wooden floors that vary in colors and generally prefer dark colors that add elegance and sophistication to the house in addition to the fact that their shelf life is longer than carpets

Make sure to clean the house constantly, especially from dust and stains as it is the least expensive way, but it will undoubtedly increase the luster and aesthetics of the house.

Thus, kea design best interior design company in Dubai, uae prove again and again its wide and fascinating experience in all related features and shine with the undisputed success following the headline: "Who Works, Master his Work".